A propos de l'auteur Gizeh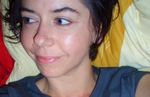 Gizeh Brazil
Email : Contactez-moi
Site Web : http://cyberdilou.canalblog.com/

Mes centres d'intérêt
Street art !
Mes films préférés
Faites le mur ! JR Women are Heroes, Dirty Dancing, Sin City, When Harry Met Sally..., Life Is a Miracle, Volver, All About My Mother, Talk to Her, Thelma & Louise, Arizona Dream, Good Bye, Lenin !, The Lives of Others, Apocalypse Now, The Doors, Underground - Emir Kusturica, Kill Bill, Persepolis, La cité de la peur, Au Nom du père, Catch me if you can, "Snatch", Spirited Away, X-Men Origins Wolverine...
Mes musiques préférées
Serge Gainsbourg, Jacques Dutronc, Queen, Sergueï Rachmaninov, Neil Young, Mobb Deep, R.E.M., Morcheeba, The Doors, Slash, Miss Kittin DJ, Keane, Felix Da Housecat...
Mes livres préférés
Wall & Piece, The Street Art Stencil Book, 1984, L'attrape-coeurs, La Cantatrice chauve, La Chute, L'Écume des jours, Les Mains sales, Le Poulpe, Pride & Prejudice, Et Nietzsche a pleuré, Le Joueur d'échecs...